What type of wood bat should I swing? A balanced or end loaded wood bat? Great question & really depends on what type of hitter you are. Is your game hitting line drives for high average or are you in the lineup to hit for more power? When you pick up the bat do you like more of a balanced feel or do you like to feel the weight towards the end of the bat?
Balanced Wood Bats
Hitting with a balanced bat is just like it sounds. When picking up a balanced bat you do not feel as much weight in the end and the bat feels easier to control. Contact/Line drive hitters like balanced bats typically because you will be able to control the barrel and bat easier but might give up a little power due to the weight balance. Balanced bats are great for contact hitters, high average guys. Usually hitters that hit in the 1,2,7,8 and 9 spots in the batting order tend to prefer balanced bats. Since 1993 the Baum Bat has been known by players around the world to be the lightest/most balanced wood bat to ever hit the market! It's light swing speed has been desired by players of all ages and stages looking to maximize bat speed! If this is you select balanced on your Baum Bat selection! *Recommendations based on customer feedback/past professional baseball experience.
End Loaded Wood Bats
Hitting with an end loaded wood bat you will notice feeling the barrel and head weight of the bat more out towards the end. This will supply you with some extra pop and power from that weight but might be a little less consistent in your barrel contact. End Load Baums are great for more power hitters or players that typically hit in the 3,4,5 and 6 spots in the line up and are big and strong for their age. *Recommendations based on customer feedback/past professional baseball experience.
Each company has their own version of an end loaded bat. We do our best to achieve the drop weight of -2.3 or heavier with our end loaded models where as our balanced models are typically within -2.3 to -3. End load bats can be FOUND ON ALL BAT MODELS! If you are a power hitter and like your bat a little end heavier you will love the end load Baum! Just head to the bat you want and select the bat balance as END LOAD!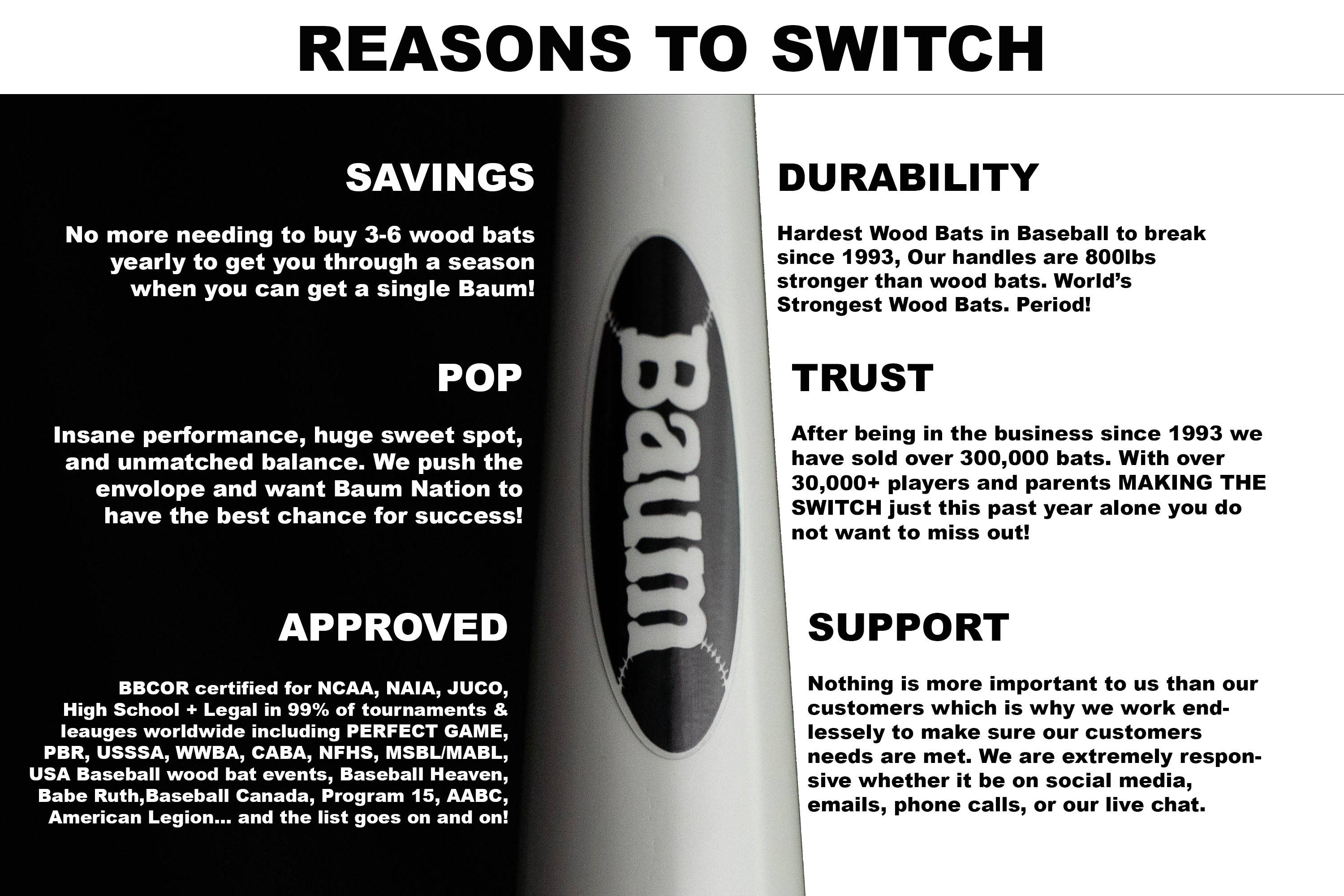 -3 BAUM BATS LEGAL FOR (END LOAD & BALANCED)
BBCOR APPROVED FOR NCAA, NAIA, JUCO, HIGH SCHOOL

MLB APPROVED FOR SHORT-SEASON & ROOKIE BALL

PERFECT GAME, PBR, BASEBALL HEAVEN, USSSA, WWBA, CABA, NFHS, MSBL/MABL, USA BASEBALL WOOD EVENTS, BABE RUTH, BASEBALL CANADA, PROGRAM 15, AABC, LITTLE LEAGUE AT INTERMEDIATE (50-70) DIVISION & JUNIOR DIVISIONS, CONFEDERATION OF EUROPEAN BASEBALL + 99% OF ALL TOURNAMENTS & SUMMER LEAGUES AROUND THE WORLD
"We have 2 and only need 1 of these bats. They are AWESOME... Save your money and stop buying other wood bats with less performance that break easy"
"Save your money, BUY A BAUM, my son who is a D1 commit was going through wood bats like crazy until we found this awesome RESOURCE! Will be the best INVESTMENT a baseball player can make"
"My 5 Year Old Baum Bat has saved me a TON of money over buying cheap wood bats that break in the first week"
"MY BAUM bat arrived today and just got back from from the field and this bat is the best bat I have ever swung. It has tons of pop and great durability"
"THESE BATS ARE IT... coming from a dad who was tired of buying wood bats that shatter easy... Got a Baum and no more worries for this season... Thank you guys!"
"Faced 3 dudes throwing 95+ one game and no one wanted to swing their own wood bats because they were afraid of breaking them... so they used my Baum and we all swung it and won 9-2... BEST WOOD ON THE MARKET"
"Faced 90 today with a Baum. 5 of my teammates broke their wood bats that weren't Baum Bats... by the end of the game my whole team was using my Baum (: they all wish they had a Baum"
"Bought this for my son who plays Div 1 JUCO ball. He says this is the best wood/comp bat he has ever swung hands down period. The new maple has so much pop it's ridiculous! I bought the Maple Gold edition with the flared knob in 34"
"I needed a bat for the weekend, it was Tuesday, when I ordered the bat. I called before ordering to make sure if I did next day it would indeed arrive. Customer service said it would so I then ordered. After a couple hours of ordering, my phone rang and it was Baum bat customer service making sure I got the order in ok. Thankful someone still believes in customer service. I will DEFINITELY be order again. Thanks."
"My son requested this bat because he liked the feel (a few teammates had them) and we have been thru our share of broken bats. The bat exceeded expectations with feel, pop, and durability to this point. Highly recommend."
"My son has been enjoying the fact that no matter what he does at bat the bat will not break. He has been able to put more focus on hitting than worrying about a broken bat."
"Went out of their way to ensure we got the bat in time for a tournament. Great product and great service...more than pleased!"
"Baum bats are the perfect tool for wood bat training or getting use to a wood bat for the first time. Having the security of knowing that if you miss hit it, it won't break. Saving you hundreds of dollars. I would recommend a Baum bat to every serious ball player."
"Baum Bats are THE BOMB! The first Baum Bat I purchased lasted over three years, and I still use it for batting practice. You simply can not purchase a wood bat that is longer lasting or has more POP than a Baum Bat. Baum Bats are the best on the market."
"The durability and pop they offer undeniably make them the best bats on the market. As the owner of Nelson Baseball School, all of my players swing Baum bats. The results have been tremendous. Parents like Baum because of durability and price. My athletes like the jump off the bat and I love the success my athletes have experienced through using Baum bats"
"I recently purchased a bat from BaumBats. I made a mistake with the model that I ordered and contacted the guys over there to see if they could help me out. They were super-cool with MY mistake and ended up getting me the correct model that I wanted. These folks know how to take care of their people. There are some great bats out there, but there is no other bat I'll ever buy other than a Baum!"